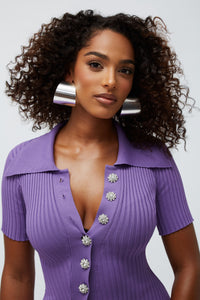 These earrings are your new go to statement earrings. Bold, big, and beautiful. 
Material: Iron
Diameters: 4.9cm
Also available in gold.
Perfect statement Earring
Great earrings for that perfect statement. Either color suits beautifully next to your face.
Beautiful Earrings
Love the earrings. Arrived as pictured and can't wait to wear them.
Everything and more.
They're perfect. That's it.
P.S. If you want a bit more support for your lobes, get some love patches or cut up pieces of bandaids.
Add them to your collection
Beautiful statement piece
Fumi earrings in silver
Love both pairs of earrings I purchased. I got gold and silver